How Dental Implants Work – Dallas, TX
The Steps to Fixing Your Smile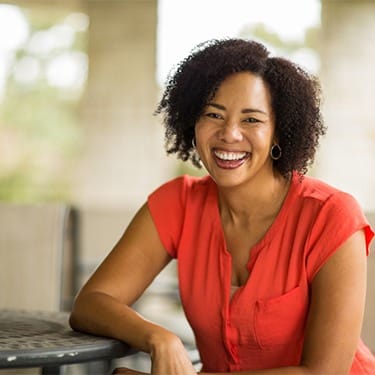 Dental implants can't be placed in just one appointment. You'll need to visit our practice several times and undergo multiple procedures before you can fully enjoy your recompleted smile. Dr. Barnett is happy to answer any questions you might have about the procedure. Contact us today to start the process by scheduling your initial consultation in order to learn more about how dental implants work in Dallas. Don't forget: once you've received your dental implants, you'll have a lifetime of strong, stable teeth to look forward to!
Initial Dental Implant Consultation
Your initial dental implant appointment will answer an important question: are implants right for you? Jaw density, oral health, and overall health can all affect the success rate of the procedure. Dr. Barnett will take all these factors into account before deciding on the best solution for your tooth loss. If we decide to move ahead with dental implants, we'll set a date for the placement surgery. We can also help you plan for any treatments that might be necessary beforehand. For example, if you have gum disease that might lead to dental implant complications, we need to treat it before moving on in the process.
Dental Implant Surgery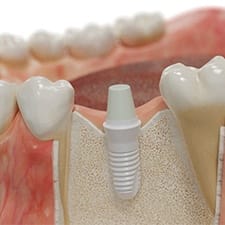 In order to place implants, we need to numb your mouth and create a small incision in your gums. This gives us access to the bone so that we can create a space for the implant. Once that's done, the titanium post will be screwed in place. The length of the procedure (as well as recovery time) will depend on how many implants you need.
Dental Implant Osseointegration & Abutment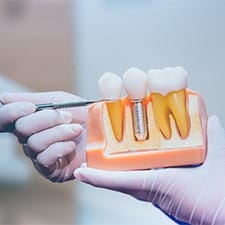 At this point, we'll need to wait about 3 to 6 months before moving on to the next stage of the dental implant process. Your jaw needs to undergo a natural process called osseointegration that essentially allows it to fuse with the implant itself. Doing so is vital for the success of the implant as well as the overall health of the bone.
After osseointegration is complete, we will re-expose the titanium posts so that we can attach something known as an abutment. This simple piece is what connects your dental prosthetic to the implant itself.
Placement of Dental Implant Restorations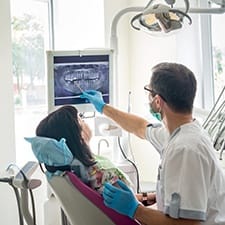 Before we can complete the process, we'll need to take an impression of your mouth after you've received your abutment. Doing so well let us create a crown, dental bridge, or dentures that fit perfectly inside your mouth. Once we've received your restoration from the dental lab, we'll call you back to our practice. Dr. Barnett will personally make any necessary last-minute adjustments to your new teeth before fixing them in place. You'll finally be able to use your implants to chew your favorite foods, speak clearly, and grin with confidence!