Single Tooth Implants – Lake Highlands, TX
Restoring Smiles One Tooth at a Time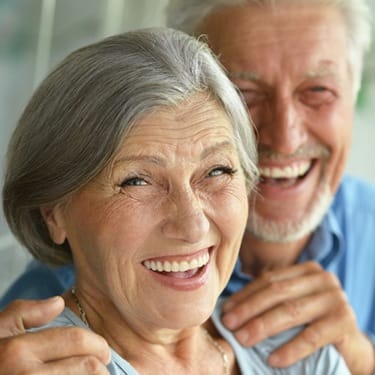 Dr. Andrew Barnett is a board-certified periodontist and implant dentist who can improve and restore your smile with the help of single tooth dental implants in Lake Highlands. For some patients, a single missing tooth is hard to handle. Not only does it present an odd, unflattering feeling in your mouth, but it causes problems for your smile's aesthetic and oral health. By choosing dental implant placement, Dr. Barnett will give you back the smile and confidence you need to feel great about the way you look. Don't wait another minute! Contact us today to schedule a consultation with Dr. Barnett.
Tooth Replacement Options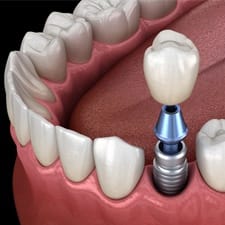 We know you have options, and it is important that you take the time to contemplate which tooth replacement solution is right for you. From the cost and procedure to the maintenance and longevity, all aspects should be considered before making a decision. When it comes to replacing a missing tooth, you have two options:
Fixed Bridge
A traditional, fixed bridge is comprised of three dental crowns fused together. Two of the crowns are fitted over your natural, healthy teeth that exist on either side of the gap. These teeth are filed down to ensure a proper fit. The crown in the middle is designed to sit on top of the gum line, giving the appearance of a natural tooth.
Single Tooth Implant
A single tooth implant is far different from a fixed bridge in that it is surgically placed into the jawbone. Your nearby teeth are untouched, as there is no need for them to support or aid in the process of dental implant placement. It consists of a titanium post that mimics the tooth root, an abutment, which connects the implant to the custom restoration, and a dental crown that sits on top of the implant.
What Are Single Tooth Implants?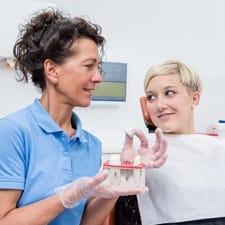 One of the great aspects of dental implants is that they are extremely versatile. No matter how many teeth you need to be replaced, a dental implant solution is readily available.
A single tooth implant is meant to look and feel completely natural. Blending in with the rest of your smile, it will be virtually impossible for anyone to tell the difference in your real and artificial teeth. When preparing for surgery, Dr. Barnett will administer local anesthesia to ensure you are comfortable throughout the procedure. Then, he will make an incision in the gum line to expose the bone. After surgically placing the implant and carefully positioning it, he will stitch up the area and send you home.
Over the next several months, you will spend time healing at home and allowing the implant to fuse to the bone and surrounding tissue in a process known as osseointegration.
After you've completely healed, you'll return to our office and have your abutment and a customized dental crown placed. Your prosthetic will be matched to the color, size, and shape of your other teeth, so it will blend in seamlessly with the rest of your smile.
Benefits of Single Tooth Implants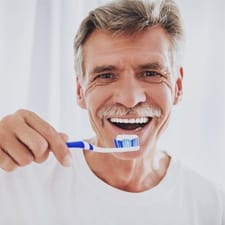 Improved stability: There's no need to worry about your dental implants in Lakewood falling out, as they are surgically placed in your jawbone.
Greater functionality: You'll feel confident knowing you can eat properly and speak clearly.
Full tooth restoration: A traditional bridge only restores the look of a tooth, but a single tooth implant replaces the tooth from the root up, which ultimately, improves your oral health by stimulating your jawbone.
Enhanced appearance: Even one missing tooth can cause changes to occur in your facial appearance. By replacing it with a dental implant, you can prevent teeth from shifting and facial changes from happening.
Longer lasting: No matter what type of dental implant you have, they are meant to last for decades, if not a lifetime.