Dental Crowns & Bridges Complete Smiles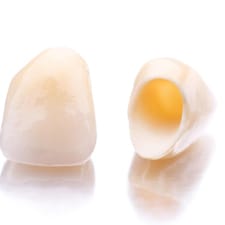 Dental crowns and fixed bridges are two of the most commonly used restorations available, and they have been relied on to repair smiles for decades. Today, advances in the techniques, technologies, and materials used to design, craft, and place these dental restorations make them more natural looking and feeling and longer lasting than ever before. At the Dallas dental office of Mariya Barnett, DDS Family & Cosmetic Dentistry, we offer high quality dental crowns and bridges to renew oral health and keep our patients smiling. If you want to find out more about any of our dental services or schedule an appointment, contact us today. Our knowledgeable dentistry team will be happy to help.
What are Dental Crowns?
Dental crowns, sometimes called caps, are custom restorations crafted to fit completely over the top of a damaged tooth. We place dental crowns in order to prevent the loss of a tooth when advanced decay or damage have significantly impacted the overall form and function of the tooth.
What are Dental Bridges?
Fixed bridges are a tooth replacement prosthetic used to restore one or more consecutive teeth. A fixed bridge uses two dental crowns, one on each end, to support the replacement tooth, called a pontic. The dental crowns are attached to healthy teeth on either side of the space left following tooth loss to recreate the lost tooth structure.
What Should I Expect During the Dental Crown & Bridge Process?
Dental crowns and fixed bridges are placed in two appointments. During the initial office visit, we'll get started by numbing the area to be treated. Then, the tooth or teeth are prepared to receive a dental crown. This means we'll remove a small amount of dental structure to allow the crown to sit evenly over the top of the damaged tooth. Next, a bite impression is captured. This impression is used by a trusted dental lab to create a high quality dental restoration. The lab restoration can take a week or longer to complete, so we end this initial appointment by placing a temporary crown or bridge. This temporary restoration protects the prepared tooth or teeth from potential damage between appointments.
When we receive the final dental restoration from the lab, you'll return to exchange your temporary for the final crown or bridge. This second visit is significantly shorter and completely comfortable. Most people don't even need local anesthesia, during this appointment. We simply remove the temporary and cement the final crown or bridge into place, leaving you with a flawless smile.
How Will I Know I Need a Dental Crown or Bridge?
We believe in a conservative approach to dental care. That means we'll always start with the dental treatment that will preserve the greatest amount of healthy natural tooth structure while fully renewing your smile. No dental treatment is right for everyone, so in order to determine whether or not dental crowns or bridges are right for you, you'll need to visit our Dallas dental office. We'll evaluate your smile, review your treatment options, and create a personalized restorative dentistry plan that will meet your needs, budget, and schedule.