Dental Crowns – Dallas, TX
Restore and Repair Your Damaged Teeth
Dental crowns are one of the most commonly used restorations available, and they have been relied on to repair smiles for decades. Today, advances in the techniques, technologies, and materials used to design, craft, and place these dental restorations make them more natural looking and feeling and longer lasting than ever before. At the Dallas dental office of Mariya Barnett, DDS Family & Cosmetic Dentistry, we offer high quality dental crowns and bridges to renew oral health and keep our patients smiling. If you want to find out more about dental crowns in Dallas, TX or schedule an appointment, contact us today. Our knowledgeable dentistry team will be happy to help.
Why Choose Mariya Barnett, DDS Family & Cosmetic Dentistry for Dental Crowns?
Customized Using Digital Impression Scanner
Natural-Looking Materials Used for Best Esthetics
Early Dental Office Hours Available Five Days a Week
What are Dental Crowns?
Dental crowns, sometimes called caps, are custom restorations crafted to fit completely over the top of a damaged tooth. To do this, a small amount of enamel is removed so the restoration can fit over the top of the crown. They are often made from porcelain, but they have also been made with metal materials, including silver and gold.
We place dental crowns in order to prevent the loss of a tooth when advanced decay or damage have significantly impacted the overall form and function of the tooth. Additionally, we may place dental crowns if a filling is not sufficiently protecting a tooth. This is the case when a filling takes up more than two-thirds of a tooth's natural enamel.
What Should I Expect When Receiving Dental Crowns?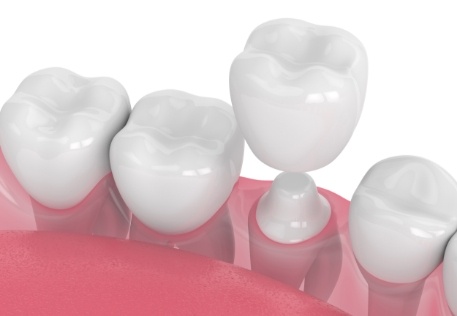 After completing an exam, which allows us to confirm if a dental crown is necessary to protect your existing teeth, we will make sure to perform any required treatments before the crown is actually placed. For example, if decay is present, we will remove it before the crown is used to cover the tooth.
To make sure the crown fits over your tooth exactly, we will capture a digital impression of your modified tooth using our iTero intraoral scanner. This means you won't have to bite into the gray impression putty that is often uncomfortable for many patients. This scan is then sent to an offsite dental lab where technicians will use it to create your permanent crown. You will wear a temporary crown until the final crown is ready. After about two weeks have passed and the crown has been fabricated, simply come to our dental office and we'll replace your temporary crown as well as make any final modifications if necessary.
How Do I Know If I Need a Dental Crown?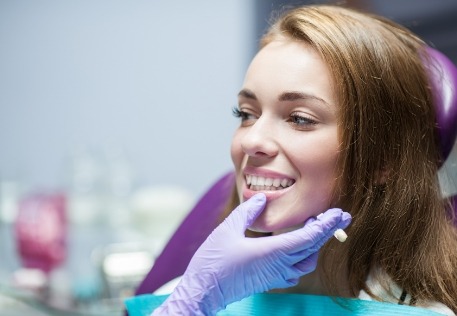 If you need a dental crown, it might be because:
Your tooth has suffered significant damage (either due to decay or a physical injury that left the tooth severely fractured)
You need a dental implant restored
Your dental filling is no longer protecting your natural tooth
You just had a root canal performed and the exposed access hole needs to be covered
A weak tooth needs to be protected from future fracture
A tooth has severe cosmetic imperfections that only a crown can hide