Dental Implants – Dallas, TX
Restoring Your Smile's Health & Function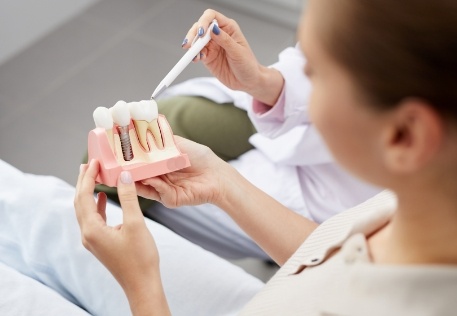 When your smile is missing one or more teeth, even simple, enjoyable activities like eating your favorite foods and laughing with friends can be stressful or embarrassing – not to mention the detriment it causes to your oral health. Our own office offers dental implants as a truly outstanding and state-of-the-art tooth replacement solution. This solution turns back the clock on your smile, and best of all, you won't need to go to a different practice to receive this lifechanging treatment.
Benefits of Dental Implants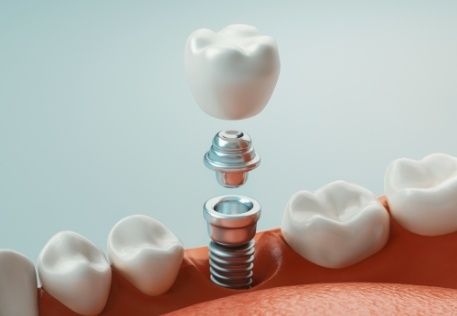 We offer the placement and restoration of dental implants in Lakewood because they can bring patients unique advantages that they can't get with other solutions, including:
Health: Dental implants will not only preserve the health of your surrounding natural teeth, but they stimulate your jawbone to prevent it from deteriorating after tooth loss.
Strength: Rooted in the jawbone, dental implants allow you to chew and consume all of your favorite foods with ease.
Longevity: With proper care, dental implants themselves can last an entire lifetime.
Confidence: Because implants look and feel like your natural teeth, you can eat, talk, and laugh with the confidence of knowing that you have a natural-looking and stable smile.
Indications for Dental Implants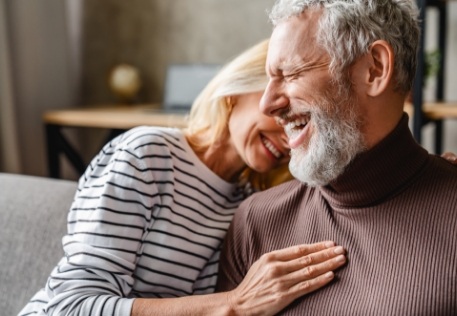 After you've healed successfully, it'll be time for Dr. Barnett to complete your brand-new teeth by designing the ideal restoration to attach on top of the implant(s). There are several options for dental implant restorations, and our recommendation will depend on multiple factors, including your overall oral health and the number of teeth/implants that require restoration. They include:
Missing Single Tooth
If you're missing a single tooth, it's still imperative to your health and appearance to replace it. An implant-retained dental crown can seamlessly blend into your natural smile for a stable and lifelike restoration.
Learn More About Single Tooth Replacement
Missing Multiple Teeth
Are you missing multiple teeth consecutively? We can use an implant-retained dental bridge to close the gap in your smile. With Implants on either side of a custom-made prosthetic, we can complete your smile with beauty and function.
Learn More About Multiple Tooth Replacement
Missing All Teeth
If you're missing all or most of your teeth, we will recommend an implant-retained denture. This custom prosthetic is an ideal way to restore multiple teeth/implants at once in a more affordable fashion. They're fixed in place, essentially making them as permanent and stable as real teeth.
Learn More About Implant-Retained Dentures
Understanding the Cost of Dental Implants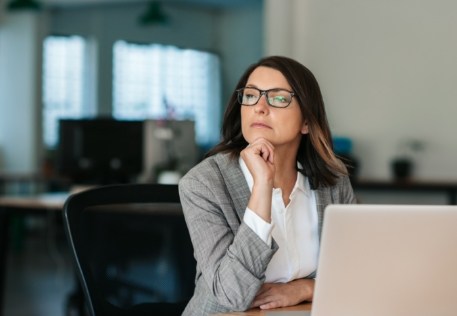 The cost of your dental implants in Lake Highlands can range based on factors like the number of teeth you're missing, the condition of your oral health, and the strength of your jawbone, which is why it's hard to give a precise estimate without examining your mouth first. It's also important to understand that the type of restoration you need will also influence the overall cost of your treatment.
Learn More About the Cost of Dental Implants
How Dental Implants Work
Multiple appointments are required before you can enjoy new teeth that are retained by implants. First, Dr. Barnett will check your jaw and your mouth to make sure that both are healthy enough for the procedure. After any necessary preparations are made, our in-house periodontist will perform the surgery and place the implant posts in their appropriate spots. But this isn't the end of the process; after 3 to 6 months, the bone will have fused with the implant, and we'll be able to attach an abutment. Then we can finally design and provide you with a custom-made crown, bridge, or set of dentures.
Learn More About How Dental Implants Work
Advanced Dental Implant Procedures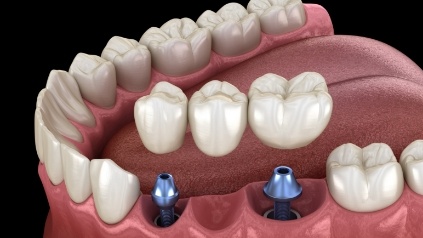 Do you require advanced dental implant preparatory procedures before your dental implants can be placed? These are commonly needed among patients to ensure that the foundation of their new smile is healthy and strong enough to support their new restorations. During your initial consultation, Dr. Barnett will discuss whether you require a bone graft or sinus lift before your treatment can begin.
Learn More About Advanced Dental Implant Procedures
Dental Implants FAQs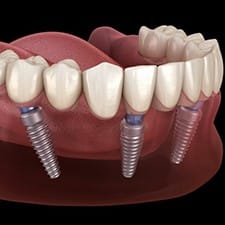 When it comes to replacing missing teeth, most dentists will tell you that dental implants are the best option for the vast majority of people. They offer countless benefits that traditional bridges and dentures alone simply can't deliver. However, if you're considering getting dental implants in Dallas, it's best to be armed with as much knowledge of the treatment as possible before moving forward. That's why we've taken the time to answer some of our most frequently asked questions about implants.
Are Dental Implants Right for Me?
As the most versatile solution to tooth loss, dental implants can replace any number of missing teeth. Before they can be placed, though, they require that you're in generally good oral health and that you have a strong jawbone. When your jawbone has deteriorated due to prolonged tooth loss, it can't provide adequate support for implants. The good news is that in most cases, a bone graft can strengthen the bone enough to support as many implants as you need to rebuild your smile.
Can Dental Implants Replace Front Teeth?
Yes! Because implants are topped with a lifelike restoration, they can be used to replace teeth at the front of your smile. Each custom-made crown, bridge, or denture is designed to perfectly resemble the pearly whites you were born with. Unless you tell them, no one should be able to tell whether your front tooth is really an implant.
Does Dental Insurance Cover Implants?
While dental insurance typically doesn't cover the cost of the implants themselves, they usually pay for other portions of the treatment, such as the restoration or consultation. Our helpful team will be more than happy to check your insurance plan and file all the paperwork for you in order to get the most out of your benefits.
How Long Does the Dental Implant Process Take?
The answer to this question is different for virtually every dental implant patient. For most people, it takes three to six months for the implants to fully integrate with their jawbone, and another few weeks to receive their abutments and restorations. If you need a bone graft or sinus lift beforehand, you can add another several weeks or even months to that timeframe. At your consultation, we'll go over your unique oral health needs and develop a personalized timeline to give you an idea of how long it will take to receive your new smile.