Dental Implants – Dallas, TX
Restoring Your Smile's Health & Function
When your smile is missing one or more teeth, even simple, enjoyable activities like eating your favorite foods and laughing with friends can be stressful or embarrassing – not to mention the detriment it causes to your oral health. Our own dental office offers dental implants for Dallas, TX dental patients as a truly outstanding and state-of-the-art tooth replacement solution. This solution turns back the clock on your smile, and best of all, you won't need to go to a different dental office to receive this life-changing treatment.
Why Choose Mariya Barnett, DDS Family & Cosmetic Dentistry for Dental Implants?
Fair, Honest Fees with No Surprises or Hidden Charges
Potential to Replace Any Number of Teeth for a Lifetime
Advanced Procedures to Prepare You for Your New Smile
What Are Dental Implants?
Dental implants are widely considered by patients and dentists alike to be the gold standard of tooth replacement. They consist of three main parts: the implant post, an abutment, and the final restoration. Unlike traditional tooth replacement options like dentures or a dental bridge, dental implants replace missing teeth both above and below the gumline to offer unmatched comfort, function, and longevity. When you rebuild your missing pearly whites from the roots up, your new smile will look, feel, and function just like natural!
The Dental Implant Process
Dental implants can't be placed in just one appointment. You'll need to visit our dental office several times and undergo multiple procedures before you can fully enjoy your recompleted smile. Dr. Barnett is happy to answer any questions you might have about the procedure. Contact us today to start the process by scheduling your initial consultation in order to learn more about how dental implants work in Dallas. Don't forget: once you've received your dental implants, you'll have a lifetime of strong, stable teeth to look forward to!
Initial Dental Implant Consultation
Your initial dental implant appointment will answer an important question: are implants right for you? Jaw density, oral health, and overall health can all affect the success rate of the procedure. Dr. Barnett will take all these factors into account before deciding on the best solution for your tooth loss. If we decide to move ahead with dental implants, we'll set a date for the placement surgery. We can also help you plan for any treatments that might be necessary beforehand. For example, if you have gum disease that might lead to dental implant complications, we need to treat it before moving on in the process.
Dental Implant Surgery
In order to place implants, we need to numb your mouth and create a small incision in your gums. This gives us access to the bone so that we can create a space for the implant. Once that's done, the titanium post will be screwed in place. The length of the procedure (as well as recovery time) will depend on how many implants you need.
Dental Implant Osseointegration/Abutment
Next, we'll need to wait about three to six months after your surgery before moving on to the next step. During this time, your mouth will be undergoing osseointegration, where the titanium implant post fuses with the surrounding bone tissue. This stage is essential for the success of the implant, the health of the jawbone, and the functionality of your new smile.
Once this process is complete, we'll re-expose the implant posts in order to attach a small connector piece called an abutment. This small part is what will eventually attach your final restoration to the implant post.
Delivery of Dental Implant Restorations
As your gum tissue heals after having the abutment placed, we'll take impressions of your mouth. This information will be used as the blueprints to create your incredibly lifelike custom-made crown, bridge, or denture and ensure it fits well. Once we've received your final restoration, you'll return to our dental office to have it placed. Dr. Barnett will personally make any necessary last-minute adjustments to your new teeth before fixing them in place. You'll finally be able to use your implants to chew your favorite foods, speak clearly, and grin with confidence!
Benefits of Dental Implants
Dental implants are quickly becoming one of the most popular ways to replace missing teeth because of all the unique benefits they offer. With more than 500,000 implants placed each year, more than 3 million people are already enjoying the great advantages they have to offer. While other tooth replacement solutions can replicate the look of a complete smile, they cannot mimic the natural tooth structure. Only dental implants can do that! To find out more about the benefits of dental implants in Dallas, check out the list below:
Lifestyle Benefits
If you want to be able to eat the foods you love and enjoy your favorite hot beverages without worrying about warping or damaging your new smile, choose dental implants. The acrylic used to create the base of a denture should never be combined with hot temperatures, as it can become warped. However, with dental implants, you can freely eat and drink what you like without worrying about damage.
Keep in mind your dental implants are surgically put into place. This means they fuse with the bone and tissue, creating a solid and firm prosthetic that won't slip or fall out of place. Dentures only sit on the gums and rely on your natural suction, making it more likely for it to fall or slip. With dental implants in Dallas, you will have increased confidence that makes it possible for you to feel comfortable surrounded by others. Unlike denture-wearers who admit to feeling embarrassed by their smile, you'll exude the confidence you need to embrace new opportunities, meet new people, and feel good with the way you look.
Health Benefits
Dental implants do not require special solutions, cleaning tools, or products to stay clean. You only need the items used to clean your own teeth. This not only makes for an easier way to maintain your new smile but also allows for better oral health from now on.
Individuals with missing teeth are often at a higher risk for common health problems (i.e., diabetes, heart disease, osteoporosis); however, by replacing your missing teeth with dental implants, you can reduce your risk for these issues, and instead, move forward with greater health and wellbeing.
Because of the strategic placement of your dental implants, your risk of facial collapse significantly decreases. Unlike dentures and fixed bridges that do not stimulate the bone, dental implants fuse with it, allowing it to remain strong each time you bite down or chew.
Long-Term Benefits
If you want a solution that will last a lifetime, look no further than dental implants. Designed to remain firmly in place for 30 years or longer, you can avoid frequent visits with your dentist to reline or replace your custom prosthetic and restoration.
After 10 years, dental implants are known to have a success rate of 90-95% and depending on your implant dentist in Dallas, you'll experience a 98% success rate immediately after having them put into place.
While dentures and fixed bridges appear more affordable upfront (they are), it's actually true they will cost more in the long run. Not only will you buy dental adhesive and cleaning solutions to maintain your prosthetics, but you'll also spend more money to have them replaced every few years. With dental implants, you'll pay more initially but save much more down the road.
Who Dental Implants Can Help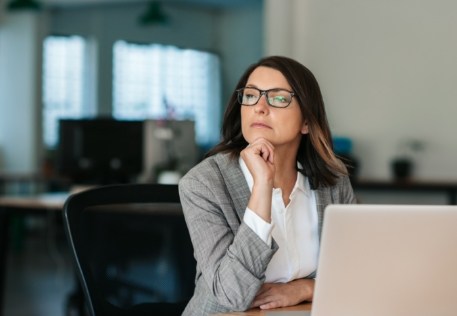 As the most versatile solution to tooth loss, dental implants in Dallas can replace any number of missing teeth. From a single small gap to an entire mouth of lost teeth, dental implants are by far the most comprehensive way to enjoy having a complete smile again. Plus, most generally healthy adults with missing teeth are candidates for this treatment. During your consultation, Dr. Barnett can determine whether dental implants are right for you and create a personalized treatment plan.
Who Is a Good Candidate for Dental Implants?
There are plenty of reasons why dental implants are the best tooth replacement, one of which is that as long as you're a healthy adult, you're probably eligible for this truly transformative treatment. Your dental implant dentist in Dallas will typically look for three main qualifications:
Good overall health – You must undergo a minor surgical procedure to receive dental implants, so ideally, you should have no medical conditions that could complicate surgery.
Great oral health – Cavities, gum disease, and other oral health issues could jeopardize the success of your implants, so we'll have to treat them beforehand.
Adequate jawbone density – When your jawbone has deteriorated due to prolonged tooth loss, it can't provide sufficient support for implants.
If, however, you don't meet all of these qualifications at first, that doesn't necessarily mean you can never get dental implants. You might simply have to undergo a few preparatory treatments first, like bone grafting to strengthen a weakened jawbone.
Once your mouth is ready to accommodate the implants, Dr. Barnett will devise a plan based on your degree of tooth loss:
Missing One Tooth
A single dental implant, topped with a custom crown, can recreate every part of a missing tooth while leaving the remaining teeth untouched. Placing a traditional dental bridge requires that two healthy teeth be filed down to support the prosthetic, leaving those teeth weaker and more vulnerable over time. On the other hand, a dental implant is completely self-supporting. It will also blend right in with the rest of your smile – eventually, you might even forget which of your teeth is the implant!
Missing Multiple Teeth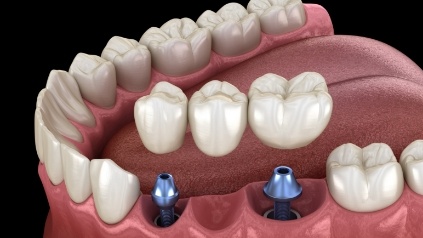 Are you missing multiple teeth consecutively? We can use an implant dental bridge to seamlessly close the gap in your smile. Rather than relying on healthy teeth, a bridge can be secured onto one or two implant posts, delivering greater stability and chewing strength than a traditional bridge or partial denture.
Missing All Teeth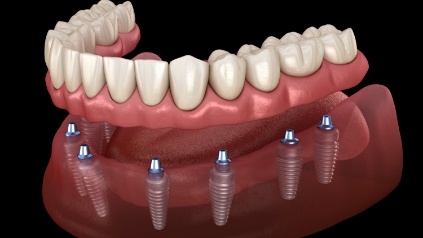 If you're missing all or most of your teeth, we will typically recommend an implant denture. This custom prosthetic is an ideal way to restore all of your teeth at once with a solution that looks and feels almost exactly like your real pearly whites. A full denture is anchored onto a small number of implant posts placed throughout the jaw (usually between four and eight). Because an implant denture is secured in place, it provides just as much reliability as natural teeth, eliminates the slippage of traditional dentures, and can last for several decades.
Learn More About Implant-Retained Dentures
Understanding the Cost of Dental Implants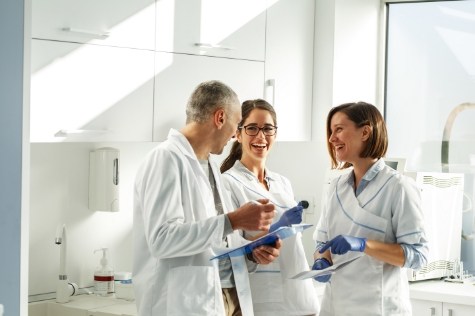 The cost of your dental implants in Lake Highlands can range based on factors like the number of teeth you're missing, the condition of your oral health, and the strength of your jawbone, which is why it's hard to give a precise estimate without examining your mouth first. Either way, when you make a long-term investment like tooth replacement through dental implants, you truly get what you pay for in terms of longevity, functionality, esthetics, and reliability!
Preliminary Treatments & Dental Implant Surgery
Unlike traditional treatments, the process to rebuild your smile will occur in several steps spread out over a few months. Each step is necessary to ensure the long-term success of your new smile, which will also involve separate costs. This can make it easier to pay for your new smile because it gives you more time to pay. For example:
Preliminary treatments like gum disease therapy or tooth extractions may be necessary before implants can be placed.
The surgery itself will have its own costs and include steps like anesthesia, which is required ahead of dental implant placement.
Our team partners with local experts to place your dental implants, meaning the fees they charge will be separate from fees at our dental office.
The Parts of Your Dental Implant
Not all dental implants are the same, which will impact the amount you pay. There are several types available, such as titanium, ceramic, and mini posts. Some may last longer or be better suited for your unique case, affecting your total cost. Besides the materials, you'll also need to pay for the number of posts and abutments necessary to support your restoration. You're always welcome to ask our team directly why we use the implants and materials that we do.
Final Dental Implant Restoration
The more dental implants you need to replace teeth, the more complex your restoration will be when the time comes to have it placed. For example, a single dental crown is enough to cover an individual implant. However, when multiple consecutive teeth need to be replaced, a pair of implants will require an implant bridge. If you need to have all or several teeth replaced in a given arch, a partial or full denture retained with dental implants would be needed, increasing your overall costs.
Does My Dental Insurance Cover Dental Implants?
Unfortunately, there are few cases where insurance covers the entire cost of the treatment, but your policy may pay for certain aspects of it until you reach your annual allowance. For example, some plans offer coverage for the restoration or preliminary procedures for dental implants, but not the surgery or implant itself. Our dental office works on your behalf with your insurance company to reduce the amount you need to pay out-of-pocket.
Making Dental Implants Affordable
We'll take the time to explain how your benefits are being used and other payment options to cover any remaining balance, including third-party financing plans from CareCredit. By going this route, you can cover the costs of your treatment in more manageable chunks, rather than do so in one large installment. You can also save money through our in-house membership plan, which provides discounts on a variety of services, including certain dental implant cases.
No matter what your budget may be, we'll help you find the solutions you need to permanently replace your missing teeth without breaking the bank!
Advanced Dental Implant Procedures
Many patients aren't ideal candidates for implants to replace missing teeth in Northeast Dallas right off the bat. In fact, many require preparatory procedures including bone grafts and sinus lifts in order for their new restorations to be successfully placed. Creating a healthy foundation for your new smile is important, because without it, it's possible that you could experience implant failure or complications down the road. Dr. Mariya Barnett and our team are dedicated to making sure that your new smile is healthy and lasts for decades to come. That's why we may suggest one of these dental implant procedures in Northeast Dallas listed below before we can conduct your implant placement.
Bone Grafting
When teeth go missing, the roots of them are no longer stimulating the jawbone in the area of your mouth in which they were located. If they're not replaced in a timely manner, the bone can begin to deteriorate and weaken. Dental implants require substantial bone density in order for the procedure to be successful because they naturally integrate with the jaw through a process called osseointegration. This step of the treatment is what provides them with strength, stability, and a long lifespan.
During your initial consultation, our team will examine your facial structure and determine whether you need a bone graft to strengthen your jaw. The procedure works by taking bone from a different area of your body (or from a human or animal donation) and placing it at the site of deterioration to regenerate the density in that area. As your bone grows, it will replace the graft and function as a sturdy foundation for your dental implants.
Sinus Lifts
As we examine the images we captured of your facial structure, we may also notice that your sinuses are close to your upper jawbone, which could affect the function of your implants. In this case, we'll likely suggest a sinus lift, which is where we will add height to the upper jaw and shift the sinuses away from where your implants will be. After a small incision in the gums is made, we will gently push the sinuses up and add grafting material to the area. After several months of healing, you'll be ready to receive your implants.
Maintaining & Caring for Your Dental Implants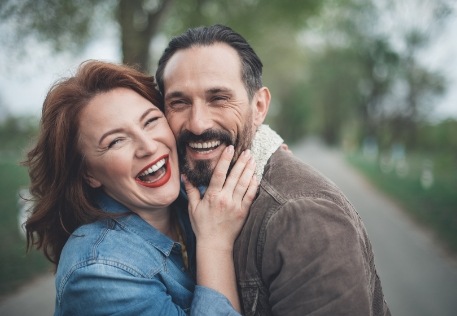 Out of all the ways to replace missing teeth, dental implants have the highest success rate – it can be as high as 98%, even after several decades! However, your new smile will only last this long if you take proper care of it. After your treatment, Dr. Barnett will provide you with the basics of dental implant care in Dallas, which should look something like this:
Make Oral Hygiene a Priority
Even though dental implants are immune to cavities, oral hygiene is still of the utmost importance. Otherwise, plaque and bacteria will accumulate on your remaining teeth and gums, which could lead to dental implant failure. Brushing, flossing, and rinsing with mouthwash on a daily basis will go a long way toward keeping your dental implants healthy for years to come.
Eat a Healthy Diet
It's impossible to fully eliminate sugars and starches from your diet, but your implants will thank you if you limit your consumption of these types of foods. Swap them out with mouth-healthy choices instead, like leafy greens, fresh fruits, and calcium-rich dairy products. Not only do these foods promote better gum and jawbone health, but they'll greatly reduce your risk of decay and infection that could compromise your dental implants in Dallas.
Break Bad Habits
It's in your best interest to quit smoking before you undergo dental implant surgery, as tobacco could make the osseointegration process difficult or even impossible. Not to mention, smoking more than doubles your risk of gum disease.
Additionally, you'll want to kick harmful oral habits like eating ice, biting your fingernails, chewing on hard inedible objects like pen tips, and using your teeth as tools to open packaging. These habits could end up breaking your restoration or even dislodging your implant, which can be seriously painful and expensive to treat.
Protect Your Dental Implants
If you're an athlete, talk to Dr. Barnett about getting a customized sportsguard. This small device fits comfortably over your teeth to minimize the risk of damage to your pearly whites (both real and artificial) should you receive a blow to the face.
Maybe it's not sports injuries that are putting your smile at risk; maybe it's nighttime teeth grinding, also known as bruxism. In that case, Dr. Barnett can craft a personalized nightguard to prevent your teeth from making harmful contact while you sleep.
Schedule Regular Dental Checkups
Even if you have zero natural teeth remaining, you should still visit your implant dentist in Dallas at least twice a year for a routine checkup and cleaning. These appointments give us a chance to detect any problems with your implants, gum, or remaining teeth early on. By getting potential issues treated right away, we can save you a great deal of time and money down the road.
Dental Implant Frequently Asked Questions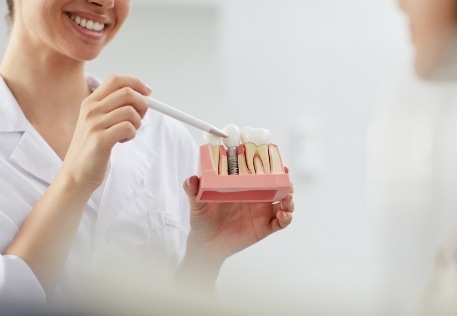 When it comes to replacing missing teeth, most dentists will tell you that dental implants are the best option for the vast majority of people. They offer countless benefits that traditional bridges and dentures alone simply can't deliver. However, if you're considering getting dental implants in Dallas, it's best to be armed with as much knowledge of the treatment as possible before moving forward. That's why we've taken the time to answer some of our most frequently asked questions about implants.
Can Dental Implants Replace Front Teeth?
Yes! Because implants are topped with a lifelike restoration, they can be used to replace teeth at the front of your smile. Each custom-made crown, bridge, or denture is designed to perfectly resemble the pearly whites you were born with. Unless you tell them, no one should be able to tell whether your front tooth is really an implant.
Does Dental Insurance Cover Implants?
While dental insurance typically doesn't cover the cost of the implants themselves, they usually pay for other portions of the treatment, such as the restoration or consultation. Our helpful team will be more than happy to check your insurance plan and file all the paperwork for you in order to get the most out of your benefits.
How Long Does the Dental Implant Process Take?
The answer to this question is different for virtually every dental implant patient. For most people, it takes three to six months for the implants to fully integrate with their jawbone, and another few weeks to receive their abutments and restorations. If you need a bone graft or sinus lift beforehand, you can add another several weeks or even months to that timeframe. At your consultation, we'll go over your unique oral health needs and develop a personalized timeline to give you an idea of how long it will take to receive your new smile.