Dental Implants in Lake Highlands, Lakewood, & Northeast Dallas
Your Northeast Dallas Implant Dentist Providing Tooth Replacement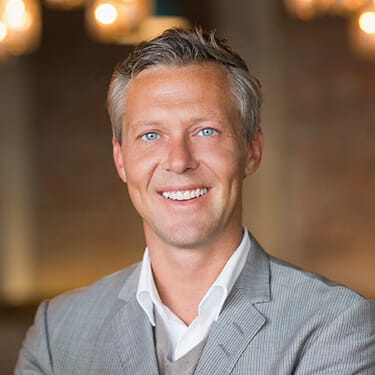 When your smile is missing one or more teeth, even simple, enjoyable activities like eating your favorite foods and laughing with friends can be stressful or embarrassing – not to mention the detriment it causes to your oral health. Here in the DFW area, Dr. Mariya Barnett offers dental implants as a truly outstanding and state-of-the-art tooth replacement solution. This option turns back the clock on your smile — and patients can undergo the entire implant process, including both surgical care and restoration, right here in one, convenient location! Contact your new female dentist today to get started. Our team welcomes patients from Lakewood, Lake Highlands and other nearby areas in Northeast Dallas.
Why Are Dental Implants The Right Choice?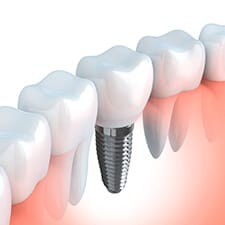 Your tooth has two important components: the white portion you see(also known as the crown), and the root, which is safely hidden beneath the gum tissue within the bone. Traditional tooth replacement options only rebuild the crown portion of the tooth. While that corrects the aesthetic issues of losing a tooth, your oral health suffers over time without a functioning tooth root in place. That's why so many elderly people have a hunched facial appearance — the loss of tooth roots results in a shrunken, deteriorated jawbone.
Dental implants are the only reconstructive solution available today that actually rebuild the entire tooth, revitalizing both your wellbeing and your self-confidence in effective, enduring ways. With the help of proper maintenance, they can serve you well for the rest of your life!
Dental Implant Placement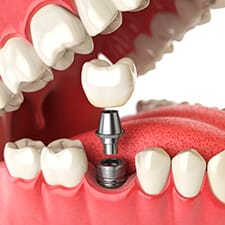 Once we've confirmed that you're a good candidate for dental implants, the first portion of the procedure will be their surgical placement into the jawbone. Dr. Andrew Barnett (Dr. Mariya Barnett's husband) is a board certified periodontist, and he'll personally handle the placement procedure — so you never have to leave our familiar environment where you already feel right at home.
Once the implants are in place, a months-long period of healing will follow, during which your natural bone and tissue will slowly grow around the implant. The tissues fuse together to create a solid, long-term foundation for replacement of the teeth.
Dental Implant Restoration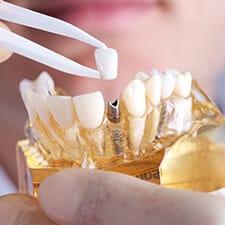 After you've healed successfully, it'll be time for Dr. Barnett to complete your brand-new teeth by designing the ideal restoration to attach on top of the implant(s). There are several options for dental implant restorations, and our recommendation will depend on multiple factors, including your overall oral health and the number of teeth/implants that require restoration. They include:
All-Ceramic Crowns: New, tooth-colored dental crowns are used to restore individual implants seamlessly without requiring the alteration of nearby healthy teeth.
Implant-Retained Bridges/Dentures: These custom prosthetics are an ideal way to restore multiple teeth/implants at once in a more affordable fashion. They're fixed in place, essentially making them as permanent and stable as real teeth.
Overdentures: Overdentures are virtually identical to their implant-retained alternatives in appearance, but they're removable. Many patients enjoy the valuable health benefits of dental implants, and the increased retention compared to traditional dentures, while still being able to remove their dentures for cleaning.
All-On-4: All-On-4 implant treatment is an excellent alternative to the traditional procedure for patients who need to replace an entire arch of teeth and have a limited amount of healthy jawbone structure remaining. As the name suggests, only four implants are placed within the jawbone at strategic positions, and a new prosthetic denture can actually be immediately secured, meaning you're never without the strong, capable dental structure you need. After your gum tissue has sufficiently healed, you'll return to our DFW area office so that Dr. Barnett can place your permanent denture. With this procedure, you can have all your teeth immediately replaced in one day!