Dentures – Dallas, TX
Restore Your Missing Teeth
Patients who have suffered significant tooth loss can greatly benefit from dentures and partials, which restore the missing teeth in a natural, sturdy way. Dr. Mariya Barnett offers high-quality prosthetics that create confident, beautiful smiles! Keep reading to learn more about partials and dentures in Dallas TX, including what they are, their benefits, and what it takes to get them. You deserve a complete and healthy smile, even after significant tooth loss.
Why Choose Mariya Barnett, DDS Family & Cosmetic Dentistry for Dentures?
Made from Natural-Looking Materials for Best Esthetics
Affordable Solution for Severe Tooth Loss
Can Be Paired with Dental Implants for Enhanced Stability
What Are Dentures and Partials?
A denture is a set of prosthetic teeth attached to an acrylic base that is designed to look just like your healthy gum tissue. Dentures are created out of natural-looking materials for an inconspicuous replacement.
A complete denture replaces an entire arch of missing teeth in the upper or lower jaw; a partial denture fills in the gap left behind when a few natural teeth still remain healthy and strong in the jaw. The complete denture is held in place using natural suction and the help of a denture cream if needed. A partial denture clicks into place, supported by metal brackets affixed to natural teeth. For eligible candidates, dental implants provide additional security for a complete or partial denture.
Who's a Good Candidate for Dentures?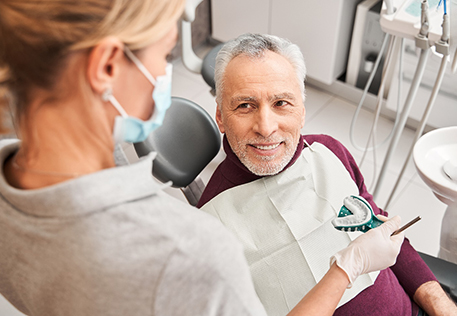 So long as you suffer from tooth loss, there's a good chance you qualify for dentures. That said, it's still a fact that treatment benefits some patients more than others. You'll thus need to consult Dr. Barnett and let her confirm your candidacy. Based on her assessment, she might proceed with the denture procedure or suggest other tooth replacement options. Dr. Barnett could also provide you with preliminary work to become a better denture candidate later. To learn more about the candidacy matter, just keep reading or call our office for details!
Effects of Missing Teeth
While tooth loss is a common issue, its effects are pretty serious. In fact, failing to replace missing teeth can severely harm your oral health.
For one thing, the causes of lost teeth often need treatment themselves. Lacking pearly whites due to, say, decay or gum disease means your mouth is already in poor shape. If you restore your smile, though, a dentist can treat these problems before they worsen.
Furthermore, missing your chompers can make daily life difficult. After all, you need teeth for various everyday tasks – speaking, eating, (obviously) smiling, etc. Plus, smile gaps will tilt your remaining teeth over time, making them look crooked. You'd then experience dips in confidence and self-esteem.
What Qualifies You for Dentures?
True enough, almost anyone who's missing teeth can qualify for dentures. However, some patients are especially likely to benefit from them. Such people tend to have the following:
Significant Tooth Loss
Dental Sensitivity
Advanced Tooth Decay
Sufficient Gum & Jaw Tissue
It's also crucial that those with dentures stay committed to them. Without proper oral care and prosthetic maintenance, your new teeth won't last long. Still, the financial burden isn't too big – dentures are quite affordable and a good option for those on a budget. You can thus consider them a good, cost-effective investment.
Alternative Tooth-Replacement Options
If you don't immediately qualify for dentures, don't panic. You have other options when it comes to tooth replacement. For instance, Dr. Barnett's dental office near Lakewood can also give you dental implants or preliminary work.
Unlike dentures or bridges, implants replace the whole tooth – from the crown to the root. They do so by fusing with your jawbone, a process that makes them a permanent part of your mouth. The result is a prosthetic that restores your smile and preserves your jaw tissue.
If necessary, our office could help you qualify for dentures later with preliminary procedures. These might include periodontal therapy, bone grafts, or more.
Learn More About Dental Implants
Learn More About Gum Disease Treatment
How Dentures are Made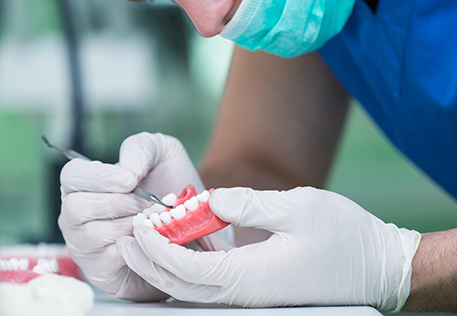 Before you settle on dentures in Dallas, maybe you'd prefer to learn how they're made. After all, you'll use them for a while, so it's only fair to know their origin. Luckily, we at Dr. Barnett's office are happy to explain. Listed below, then, is a summary of the denture-making process and its materials. Feel free to read it and discover how your new teeth come to be! From there, you'll be more likely to appreciate how they restore your smile.
What are Dentures Made Of?
Ultimately, dentures have two main parts: a base and a set of artificial teeth. Each is essential for the prosthetic's overall function and quality. Consider, for example, the descriptions below:
Denture Base – A denture's base supports its artificial teeth. Generally, a dental lab can make one from wide-ranging materials, including acrylic, porcelain, metal, and nylon. However, which substance is used will differ based on the type of denture being made.
Artificial Teeth – Artificial teeth are a denture's tooth-replacing portions. Their porcelain or resin composition makes them look and feel like natural teeth. It's usually porcelain, though, that's used for full dentures, as that material can be abrasive on adjacent teeth.
The Denture Creation Process
Dental practices customize each denture for a specific patient's mouth. As such, creating them involves a multi-step process. This method involves actions such as:
Step 1: Your dentist will take a dental impression of your upper and lower gums. They'll subsequently send the resulting model to a lab that creates the dentures.
Step 2: After being crafted, the lab will return the wax dentures to the dentist/prosthodontist for a fitting. Should the patient and dentist approve, they'll send the restorations back to the lab for completion.
Step 4: A technician will boil the dentures to remove their wax portions. They'll then place the appliance in a flask to pour plaster. The flask will go on to be placed in hot water to melt the dentures.
Step 5: The lab worker will make holes in the artificial teeth so new material can attach to them. They'll then add A liquid separator to the plaster layer to prevent the acrylic from sticking. The same acrylic is then injected into the flask to replace the wax.
Step 6: The worker will remove the plaster to reveal the prosthetics. Later, they'll place the dentures in an ultrasonic bath to remove leftover plaster.
Step 7: The technician will polish the restorations after removing excess acrylic.
Step 8: The patient will return to the office for fitting and final adjustments.
Adjusting to Your New Dentures
Admittedly, you'll feel mild aches as you start wearing dentures. This soreness could be especially apparent when you try speaking or eating. That said, the discomfort will fade soon enough once you've adjusted to your new teeth.
Of course, you can always speed up the adjustment process if you'd like. Just eat soft foods, exercise your facial muscles, and experiment with suitable adhesives. In no time, these practices will help your dentures seem like a natural part of your mouth!
The Benefits of Dentures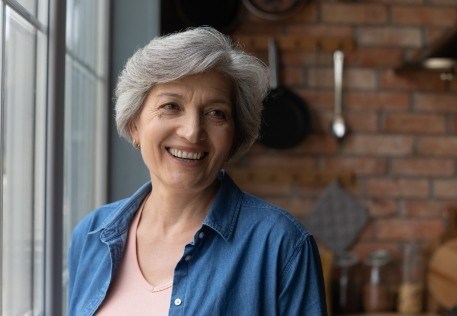 Finding an effective replacement for missing teeth is vitally important for your oral and overall health. Gaps in the smile result in a weaker jawbone, increasing the risk that you will lose additional teeth later on. It is also difficult to eat a balanced, nutritious diet when you cannot chew properly. A lisp or whistle may develop in the speech as well. Fortunately, full and partial dentures offer a wealth of benefits for patients who have experienced significant tooth loss. Read on to learn more about the advantages you can experience from this incredibly effective restorative dentistry treatment.
Psychological Benefits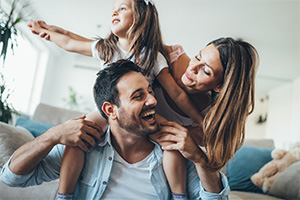 Whenever someone loses teeth and has visible gaps in their smile, there can be all kinds of negative consequences to their psychological well-being. In many cases, they may feel extremely self-conscious, are more likely to hide their mouth when smiling or talking, and are less likely to participate in social events. However, by renewing their smile with dentures, they can enjoy showing off their new pearly whites, significantly reducing their anxiety about how they look, speak, eat, and more.
Clearer Enunciation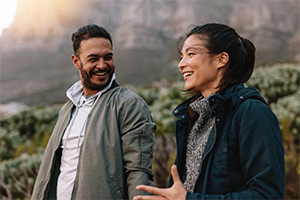 If you're missing some or most of your teeth, then you understand how difficult it is to talk comfortably. When pronouncing certain words, you usually have to place your tongue and lips properly against your teeth. If you can't do this, then some words and phrases will be much harder (nearly impossible) to say. By replacing your lost teeth with dentures, you'll be much more capable of enunciating clearly when talking to others. It can take some time to get accustomed to your prosthetics, but you should start speaking more naturally with a little practice and repetition.
Improves Nutrition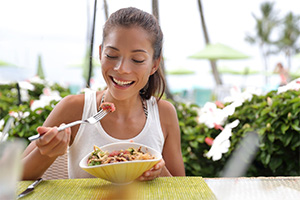 Plenty of foods are tough to chew, including nutritious ones like fruits, vegetables, and lean meats. Without the ability to chew your meals efficiently and comfortably, you may end up experiencing problems like indigestion and malnutrition. To broaden your dietary choices as well as improve your nutrition, you can restore your bite with dentures. They can make a significant difference in both your oral and overall health, as you'll be able to consume the nutrients you need for a healthier smile.
Preserves Oral Health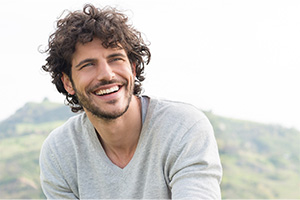 Even if your remaining natural teeth don't hurt after losing some or most of your smile, they can still be at risk of moving out of place to fill the gaps. This is because your jawbone will begin to deteriorate due to a lack of stimulation. Dentures can help keep your other pearly whites from shifting around, preventing the risk of further tooth loss. They can also help avoid wear and tear on your remaining teeth, as they'll bear some of the weight of excessive chewing.
Expands Opportunities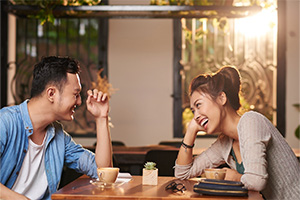 When it comes to first impressions, your smile is one of the main things people notice. This means if you're going into an interview, seeking a job promotion, or even on a date, having a healthy and beautiful set of teeth can make all the difference. By restoring your smile with dentures, you can feel more confident in how you look, which will show in the way you carry yourself. Doing so can end up boosting your personal and professional opportunities.
Understanding the Cost of Dentures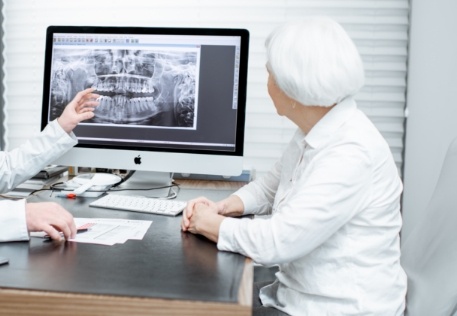 For generations, dentures have allowed people suffering from tooth loss to enjoy daily tasks once again like eating, speaking, and smiling. We don't want worries about the potential cost to stand in between you and this life-changing treatment. That's why our team is happy to walk you through the cost of dentures in Dallas and help you navigate your options for fitting your new smile into your budget.
Factors That Affect the Cost of Dentures
No two dentures are created equal. In fact, each of these prosthetics is fully personalized to fit perfectly within your unique smile. With that in mind, here are three of the primary factors that can impact the price of dentures:
Preparatory procedures – Your denture dentist in Dallas may need to perform certain treatments, such as tooth extractions or gum disease therapy before your mouth is ready for dentures. While these procedures ensure your new smile has a healthy foundation, they do increase your overall treatment costs.
Materials – The base of your denture can be made from various types of acrylic, all of which are dyed to match the color of your gums. Different kinds of acrylic can influence the price.
Replacement teeth – Similarly, your artificial teeth can be constructed from different materials. Most patients choose to have their replacement teeth crafted from either porcelain or acrylic, both of which are lifelike, durable, and fully customizable.
It's worth mentioning that just because a tooth replacement option is inexpensive, that doesn't necessarily mean it's better. When it comes to your smile, quality is always important!
Are Implant Dentures More Expensive?
Implant dentures do have a higher up-front price tag than traditional dentures, but they're an investment worth making. A conventional denture normally has to be replaced every five to seven years, while an implant denture can last up to 30 years. With implant dentures, you'd just be making a one-time payment, while other options would eventually cost more in the long run due to their need for frequent replacements.
Does Dental Insurance Cover Dentures?
Yes, most dental insurance plans cover dentures in Dallas to some extent. The best way to find out just how much coverage you qualify for is to contact your insurance company directly. Of course, our team is happy to assist you with this process! We can also help you file your claims if need be. We're even in-network with many of the nation's leading dental insurance providers, including BlueCross Blue Shield, and Aetna.
Other Options for Making Dentures Affordable
In addition to dental insurance, our dental office near Lake Highlands provides affordable dental financing through CareCredit and Lending Club. These companies can help you break up the cost of your treatment into smaller monthly chunks, many of which have little to no interest!
If you're looking to save on more than just dentures, we suggest signing up for our in-office membership plan. For a low, flat annual fee, you'll gain access to significant discounts on many of our services, including dentures. You'll also receive FREE preventive care, such as checkups and cleanings, all without the annual maximums, deductibles, and waiting periods of traditional insurance. Just sign up and start saving!
Dentures Aftercare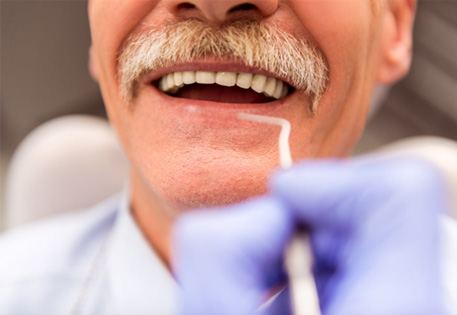 Now that you're enjoying your new dentures, it's important that you learn how to take proper care of them. Keeping your new smile looking and feeling its best day after day requires time, patients, and work, so if you want to make sure that you don't find yourself back in the dentist's office inquiring about a replacement in a matter of months, here are a few tips to think about when it comes to denture aftercare.
Removable Dentures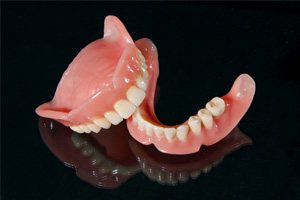 Remove After Eating
Throughout the day, bacteria and food debris can accumulate on your dentures and put your gum tissue at risk. It's always best to remove your prosthetics once you're finished eating and give them thorough brushing and rinsing. This will eliminate harmful particles that can transfer into your oral cavity and put you at risk for gum disease.
Clean Your Restoration
Denture brushes, nonabrasive toothpaste, and other similar products can be helpful when it comes to cleaning your dentures. Because it is important to brush all sides of your smile, you'll need to make sure to remove your teeth so that you can perform a thorough cleaning. In doing so, you'll ensure that your teeth are free of harmful bacteria while also giving them the best chance to remain healthy for longer. During this time, you'll also want to make sure you're cleaning your gums, tongue, and other areas of your mouth so that it, too, remains free of bad oral bacteria.
Keep Your Dentures Safe
Although dentures are durable, they can break if too much pressure is applied. Accidental damage is common with these prosthetics, which is why we recommend that you use a towel and place it in the basin of your sink. This protects your teeth should you accidentally drop them while giving them a cleaning.
Remove Dentures When You Sleep
It might seem silly to remove your teeth while sleeping, but the reality is that they need time to soak and undergo extensive cleaning. This time apart from your dentures is also helpful to your gum tissues and bone. Throughout the day, these areas can become exhausted, and throughout the night, your gums can regain valuable nutrients, while your bone can relax without the additional pressure placed on it.
Notice Changes
While wearing dentures, it's not uncommon to experience changes over time. However, if you notice that they no longer fit properly and sores are forming inside your mouth as well as irritation to your gum tissue or infection, don't hesitate to call our office right away. You'll need to come in and allow our team to examine your prosthetic to determine if it needs to be realigned or replaced. This will ensure that you avoid problems that can easily form inside the mouth.
All-On-4 Dentures
If you have All-On-4 dentures, you'll need to make sure that you brush them twice a day (at least) with a soft-bristled toothbrush or an electric one. You'll also want to use nonabrasive toothpaste, as it won't scratch the material. Also, make sure that you're flossing at least once each day. You can opt for floss threaders if that makes the process easier for you. It's also possible to use a water irrigator if you find that to be a better solution.
Don't forget to also rinse your mouth with an antibacterial mouthwash, as this will help to alleviate the presence of tartar.
Dentures Frequently Asked Questions
Are you considering rebuilding your smile with dentures in Dallas? If so, you might have a few questions that you want answered before you begin this treatment. To ensure you're making the best decision for your smile and oral health, we've answered some questions that we frequently get asked by our patients below. If you have a question that isn't answered on this page, just call us and ask!
How Much Do Dentures Cost?
As with any kind of dental work, there is no fixed cost of dentures. During your consultation with Dr. Barnett, you can expect her to discuss the various factors that can influence the price of your new teeth. Some of these factors include:
The number of teeth you're missing
Whether or not you choose to support your dentures with dental implants
The materials used to create your dentures
Any additional dental work you'll need beforehand (such as gum disease therapy or tooth extractions)
To make your dental care more affordable, our dental office is in-network with many popular dental insurance PPO plans. We also offer low-interest third-party financing through CareCredit and Lending Club. Lastly, as an alternative to traditional insurance, we have an in-office membership plan that gives you discounts on most services as well as FREE preventive care in exchange for a low, flat yearly fee.
Will Dentures Make Me Gag?
Custom-made dentures that fit well should not cause you to gag. After tooth loss, though, your jawbone will naturally change shape (unless you received dental implants). As a result, the dentures might not fit as well as they used to after a few years. They may loosen and move around, touching the back of the tongue or throat and triggering the gag reflex.
Try applying some denture adhesive. If this doesn't work, give us a call. We can decide whether a reline or replacement would be best.
Keep in mind that when you first get your dentures, it will take some time to get used to them. However, if the gagging feeling persists for more than a few weeks, contact us and we'll take a look.
How Do I Clean My Dentures?
Implant dentures can generally be cleaned in the same way as your natural teeth; just brush and floss them every day. Removable full and partial dentures, on the other hand, require a bit of extra care. Here are some important tips for keeping traditional dentures clean:
Use a special denture brush and cleaning solution to clean your dentures at least once daily.
After you remove your dentures, gently brush your tongue and gums.
Take your dentures out and rinse them off after every meal and snack.
Soak your dentures in room-temperature water or a denture cleanser every night.
Schedule routine checkups with our team at least twice a year.
Learn More about Dentures and Partials Today!
If you have suffered significant tooth loss, don't wait another day to find a high-quality replacement! Dr. Barnett offers beautiful complete and partial dentures in Dallas. We invite you to request an appointment today!