Veneers – Dallas, TX
Make Your Smile Dazzle Again
Are you tired of hiding your smile behind your hand or lurking in the backgrounds of photos? Are you feeling overwhelmed by the number of cosmetic dental flaws you're facing and unsure of what to do next to accomplish your smile goals? Dr. Mariya Barnett, your cosmetic dentist in Dallas, would be happy to help you. With new, customized dental veneers, achieving the appearance of your dreams is easier than you'd think. Contact our dental office today to schedule your first consultation to learn more about veneers in Dallas, TX, or if you have any questions we can help you with.
Why Choose Mariya Barnett, DDS Family & Cosmetic Dentistry for Veneers?
Hide Multiple Imperfections at a Time
Personalized to Blend in With Existing Teeth Exactly
Designed Using Modern Digital Impression Technology
What Is a Veneer?
A veneer is a high-quality restoration that is crafted from similar materials as a tooth-colored dental crown. However, there is one big difference – instead of being meant to cover the entire tooth, veneers are designed to be ultra-thin shells that fit over just the front, visible surfaces of your smile.
Are Veneers Right for Me?
If you're interested in correcting several dental flaws at once instead of having to arrange separate cosmetic services for each one of them, a new veneer is a great option. They can be used to correct a wide variety of common imperfections that patients face in the mirror every day, including the following:
Chips, cracks, and worn-down dental structure
Teeth that are noticeably misaligned
Small gaps between teeth ("instant orthodontics")
Noticeable staining/yellowing/general discoloration
Teeth that are strangely shaped or overly short
How Do I Get Veneers?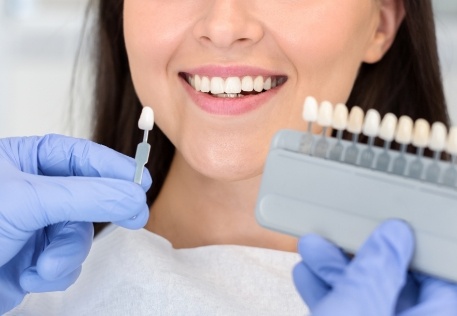 Generally, having a new veneer designed, crafted, and placed by your dentist in Dallas takes two appointments. After we've confirmed that this is the right cosmetic solution for you during your initial consultation, the teeth will have to be slightly altered in order to accommodate the restoration. After capturing detailed impressions of the affected teeth, Dr. Barnett will provide you with a temporary veneer so that you can get used to its look and feel while a trusted dental laboratory crafts your permanent version.
Receiving the new, finished veneer back at our dental office usually takes a couple of weeks, after which our team will invite you back in for a follow-up appointment right away. After ensuring that your new veneer looks great and feels comfortable in the mouth, all that's left to do is make any final, small adjustments and then cement it securely in place. You'll be able to leave that day with a much-improved appearance and sense of self-confidence!
What Are the Benefits of Veneers?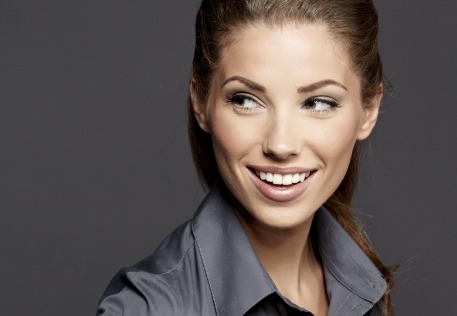 Veneers in Dallas are high in quality and can typically last anywhere from 15-25 years with the help of proper maintenance.
Veneers are highly versatile and can be used to treat several cosmetic dental problems at once, saving patients valuable time.
The dental porcelain used to create veneers is so lifelike in appearance that it even reflects light just like your original enamel does. The people around you will hardly be able to tell the difference.
Veneers are so sturdy that they even discolor at a slower rate than your natural teeth do. This means the improvements you've achieved will last longer.
Understanding the Cost of Veneers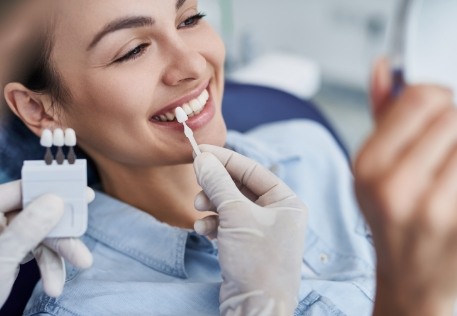 When it comes to anything in life, you truly get what you pay for. However, the same applies to dentistry, especially cosmetic treatments that focus on your smile's appearance. When you make a positive investment in your smile today, you'll be thanking your past self tomorrow, particularly when you want a truly Hollywood-level look! With this in mind, you'll want to confirm ahead of time if veneers are the best treatment to address your needs.
Cost vs. Cosmetic Dentistry: What's Right for Me?
Cosmetic dentistry has only gotten more complex over the years, meaning that you actually have multiple options to consider when making enhancements to your smile. What this means is different cosmetic services can incur different costs depending on your smile goals.
Teeth Whitening – A powerful bleaching solution that you won't find in stores, teeth whitening at our dental office is designed to brighten teeth and remove stubborn stains quickly and affordably. However, they do nothing to address your tooth's shape or size.
Direct Cosmetic Dental Bonding – This is by far the cheapest option available in cosmetic dentistry to date. It's perfect for enhancing individual teeth that may have permanent stains, chips, and cracks. However, you'll need to have it redone every several years or so.
Metal-Free Restorations – Tooth-colored crowns are ideal for restoring teeth damaged by decay, but they are also great for hiding misshapen or stained teeth that would be better suited to receive a dental crown over a filling or veneer. They're more expensive, but also longer-lasting than other cosmetic/restorative solutions.
Gum Recontouring – When it's your gum tissue that's more visible, giving you the appearance of a "gummy smile," gum recontouring is actually a more appropriate option.
Veneers – It's true that veneers are not cheap, but they are by far the fastest and easiest way to make your smile look exactly the way you want it to.
How to Make Veneers Affordable
Like all cosmetic dental treatments, you should not expect to get coverage from a dental insurance provider if you want veneers. However, that doesn't mean you can't still afford veneers through other methods. This includes third-party financing options like CareCredit and Lending Club. Both of these services can make paying for expensive dental treatments more manageable.
For example, CareCredit acts much like a credit card; you simply use it when you want to purchase services, then make payment on that treatment at a rate that fits within your budget. When you apply, you can confirm if you qualify quite quickly! Alternatively, Lending Club allows for extended payment plans that hold no interest when you pay within 6, 12, 18, or 24 months. You can even avoid taking hits on your credit score, giving you all the more reason to smile!
If you are still interested in cosmetic dentistry from Dr. Barnett, please schedule a consultation with our dental office directly. Her and her team look forward to helping you change the way you look at your budget, no matter what treatment you desire for your smile!
Veneers Frequently Asked Questions
Because they're one of the most versatile cosmetic dentistry services available today, veneers have grown increasingly popular over the years. As more and more people improve their smiles with veneers, more questions start to arise about this treatment. To help clear up any confusion, we've included this section with veneers FAQs in Dallas. If your question isn't answered on this page, just call us and we'll be more than happy to help!
How Do I Take Care of My Veneers?
Maintaining your veneers is actually very similar to caring for the rest of your teeth. Brush them with a soft-bristled toothbrush and a nonabrasive toothpaste twice a day, and floss every night before heading to bed. To protect them from physical trauma, wear a nightguard if you grind your teeth at night and a mouthguard if you play sports. Lastly, keep up with your regular dental checkups and cleanings.
Are Veneers Permanent?
In order to ensure that your veneers lay flush against your teeth, we'll need to remove some of your enamel. This layer should only be about as thin as a contact lens. However, tooth enamel is an inorganic material, which means that it cannot regenerate once it has been removed. For this reason, veneers are considered a permanent and irreversible treatment. Those teeth will always need some kind of protection from now on, whether that be with veneers or dental crowns.
Don't let this deter you from getting veneers, though. The majority of our patients who have revamped their smiles with veneers have been absolutely thrilled with the results.
Does It Hurt to Get Veneers?
To make sure you don't feel any pain while we remove the outermost layer of enamel from your teeth that will receive veneers, we'll numb your mouth with local anesthetic first. If you need additional help preventing pain and calming your nerves, we offer sedation options.
Once the numbness wears off, you will likely feel a little sore or sensitive for the next day or two. This is completely normal. Taking over-the-counter pain medications as needed should be more than enough to relieve your discomfort.
How Much Do Veneers Cost?
During your consultation, we'll look at your unique case and come up with a personalized cost estimate based on the number of veneers you're getting. The price you'll pay will also depend on whether you'll need to undergo gum recontouring before veneer placement.
Although dental insurance doesn't normally cover the cost of cosmetic services like veneers, our team will gladly take a look at your plan to see whether you qualify for any coverage. Our dental office is in-network with many popular PPO insurance plans. If you're uninsured, or your policy doesn't cover veneers, we can help you apply for low-interest financing through third-party companies like CareCredit or Lending Club.