Advanced Dental Services & Technology – Dallas, TX
Advanced Dental Technology for Your Comfort
The world of dentistry has come a long way over the years, and today's modern techniques and tools are more comfortable, more accurate, and speedier than ever before. At Dr. Mariya Barnett's DFW area dental office, she's proud to feature technology that elevates the treatment experience in valuable ways. Contact our Dallas, TX dental office today to schedule your first appointment. We're conveniently located for patients from White Rock Lake, TX and other surrounding areas.
Committed to State-of-the-Art & Comfortable Dental Experiences
Intraoral Camera and Digital X-Rays Enhance Diagnostics
Specialized Soft Tissue Laser for Improved Treatment Comfort
3D Cone Beam Scanner for Comprehensive Treatment Planning
Intraoral Cameras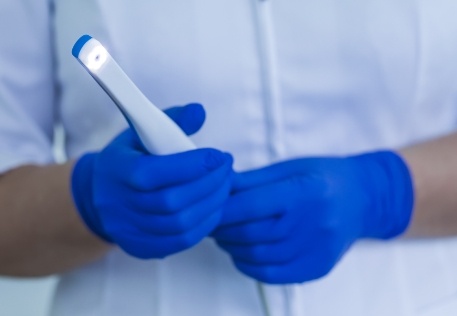 Our dentist always enjoys being able to help patients feel welcome and well-informed throughout every appointment – that's why Dr. Barnett regularly uses intraoral cameras! This high-tech wand fits comfortably in the mouth, and within seconds, the camera starts capturing high-resolution images that we can view right in the treatment room. This helpful visual aid is perfect for more clearly explaining the effects of certain treatments, outlining areas where personal oral hygiene may need to be improved, and much more.
Digital X-Rays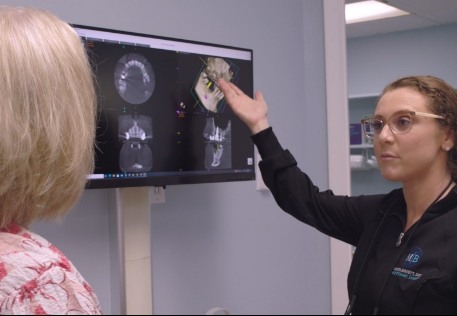 When it comes to understanding the inner workings of your oral health, X-rays are an absolutely essential tool, and our team is proud to use digital radiography as a big step up from traditional film. With digital X-rays, there's no need for slow darkrooms, hazardous chemical development, or tedious wait times – instead, crystal-clear images are captured and available for viewing within seconds. The amount of radiation exposure is also greatly reduced, which makes this state-of-the-art technique much safer for adults and children alike!
iTero Intraoral Scanner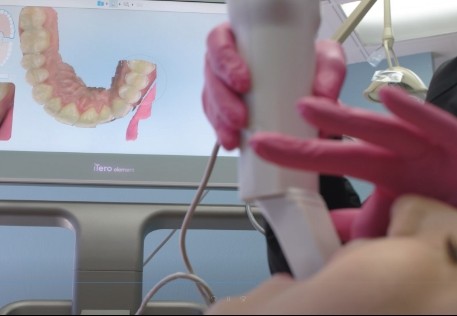 Accurate dental impressions are an essential part of many treatments, including both prosthetics and orthodontics. That is why Dr. Barnett has invested in the iTero intraoral scanner. This remarkable piece of technology quickly creates an accurate, three-dimensional digital representation of a patient's teeth. It saves time, enhances patient comfort, and improves the overall quality of care our team can provide. The iTero scanner is particularly useful for ensuring that the Invisalign treatment process is as streamlined as possible.
Learn More About the iTero Intraoral Scanner
Cone Beam Scanner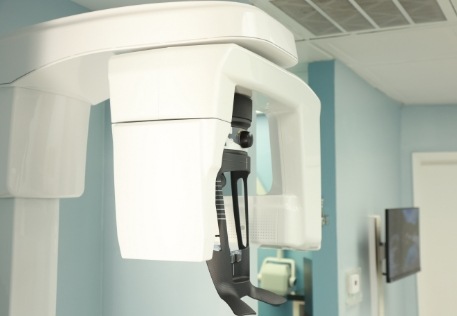 While regular dental X-rays are great, sometimes our team needs more information about a patient's dental anatomy than what they can provide, and that's when we like to use our cone beam scanner. This device is able to create a highly detailed 3D model of the teeth, jaw, and supporting oral structures. It's essentially like taking a CAT scan of just your head! This helps us precisely plan more complicated procedures like dental implant placement so we can guarantee a successful procedure and easy recovery. The image even reveals the locations of sensitive facial nerves and blood vessels so we can work around them, which leads to less post-treatment discomfort and even better results.
Soft Tissue Laser Dentistry
Our dental office utilizes the NV Microlaser from DenMat® to perform a variety of treatments with better precision, efficiency, and comfort. One of the most common uses for our soft tissue laser is gum disease therapy. During treatment, we can carefully remove tissue that's been damaged while maintaining the structure of your healthy tissue. At the same time, we can dramatically reduce the amount of healing needed following treatment, allowing you to return to normal day-to-day activities with little interruption.