Cosmetic Dental Bonding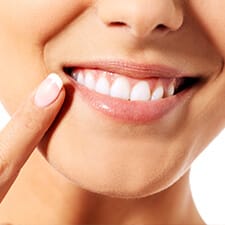 For years, people have believed that the smiles they envy on the covers of celebrity magazines are completely out of their reach. However, cosmetic dentistry services are affordable and available for everyone. If you're a patient of Mariya Barnett, DDS and her Dallas family and cosmetic dentistry team, we offer a wide range of cosmetic dental services to transform damaged and flawed teeth into picture-perfect smiles. Patients who want to conceal and correct a few smaller flaws may want to consider an affordable, one visit cosmetic solution - dental bonding. Sometimes referred to as direct bonding or cosmetic bonding, this treatment option allows us to correct dental chips, cracks, and stains while preserving healthy tooth structure.
The Dental Bonding Process
Direct bonding is completed using the same composite resin material as tooth colored fillings. The process is simple. The treatment area is numbed using local anesthetic. Then, any damaged structure is removed. Etchant material is applied to the teeth to create a more porous surface. Next, the putty-like composite resin is shaded to match the smile and applied directly to the tooth where it seeps into even the smallest pits and grooves. Once the resin is shaped into position, we use a low-heat curing light to harden the material into place. Finally, the teeth are smoothed and polished, leaving patients with a flawless smile.
Patients Who Should Consider Cosmetic Bonding
There is no one size fits all treatment in the dental field. We help patients determine their best course of action on a case by case basis. However, if your smile is relatively health (minimal wear or decay and no gum disease) and you have a few minor flaws to address, you may want to consider this treatment option. Some of the common uses for cosmetic dental bonding include:
Concealing deep set dental staining that is not removed with traditional teeth whitening methods
Creating consistent spacing between teeth that have overly large gaps
Filling in cracks in teeth to prevent further damage or decay
Repairing small chips in teeth
Caring for Smiles after Dental Bonding
Like natural tooth enamel, composite resin absorbs pigments from darkly-colored foods and beverages, leading to discoloration over time. Brushing teeth thoroughly twice a day, flossing daily, and visiting our Dallas dentistry team at least once a year is essential to ensure the smile maintains its flawless appearance following dental bonding. You should also let our team know right away, if the bonding material breaks down or chips off. We can easily repair damage to these restorations.
Are There Other Cosmetic Dentistry Options I Should Consider?
If dental bonding is not right for you, our Dallas dentist and team offer a variety of cosmetic dentistry services that will deliver the results you desire. For instance, porcelain veneers are a great option for patients who want to correct or conceal more extensive flaws. If you have just one or two flawed or misshapen teeth, a tooth-colored dental crown may be a better option. Schedule a cosmetic dentistry consultation to explore your options with Dr. Barnett.