Restorative Dentistry – Dallas, TX
Repairing Damaged Teeth
If you unfortunately have an injured or decayed tooth, it can negatively affect not just your oral health, but your overall well being. That's why Dr. Mariya Barnett, your accomplished female dentist in the DFW area, wants to help you overcome the problem as soon as possible with effective restorative solutions. Our team offers a wide range of restorative dentistry options that give you back your strong, aesthetically-pleasing dental structure so you can enjoy your smile's fullest potential. Contact our dental office today to schedule your first appointment for restorative dentistry in Dallas, TX, or if you have any questions about your smile health. Families from Lakewood, TX and other surrounding areas are always welcome!
Why Choose Mariya Barnett, DDS Family & Cosmetic Dentistry for Restorative Dentistry?
Highly Personalized Restorations Using Lifelike Materials
iTero Digital Impression Scanner In-House
Family-Oriented Dental Office Atmosphere
Dental Crowns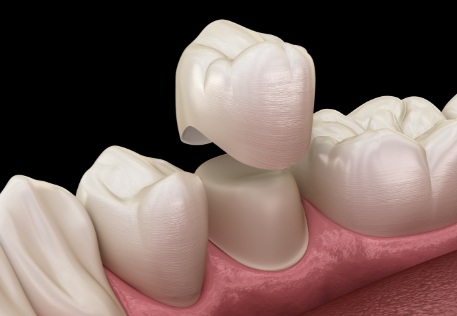 Dental crowns are one of the most common and versatile restorative services recommended to patients, and for good reason. They're designed to cover a single tooth, replicating its natural shape and appearance while protecting the remaining natural structure underneath. Dental crowns can be used to correct the following issues:
Severe tooth decay
Chips/fractures
Weakened tooth structure that needs protection
Significant cosmetic imperfections
Restoring a tooth that's been treated with root canal therapy
Restoring a lost tooth that's been replaced with a dental implant
Dental crowns are also an important component of dental bridges, which replace consecutive missing teeth sturdily and permanently. Unlike removable dentures, the bridge is anchored in place within the appropriate gap by placing new crowns over adjacent healthy teeth. This will help patients maintain their oral function and prevent other teeth from gradually shifting out of place.
Learn More About Dental Crowns
Tooth-Colored Fillings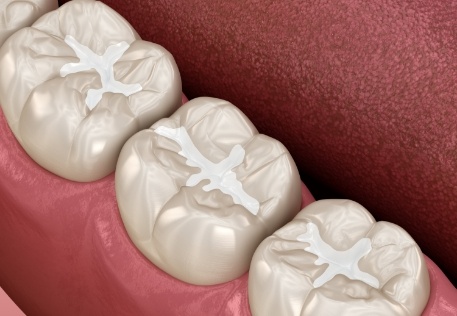 Nearly 92% of adults have experienced one or more cavities over the course of their lives, and a quarter of them currently suffer from decay that still needs to be treated. Today, patients don't have to worry about receiving silver fillings that mar an otherwise beautiful smile. Dr. Barnett places tooth-colored fillings that are crafted from shaded composite resin in order to preserve your confident appearance. These fillings are also very comfortable (no more metallic sensitivity to temperature changes) and conservative, which means we can keep more of your tooth's natural healthy structure intact and create stronger, longer-lasting results.
Learn More About Tooth Colored Fillings
Root Canal Therapy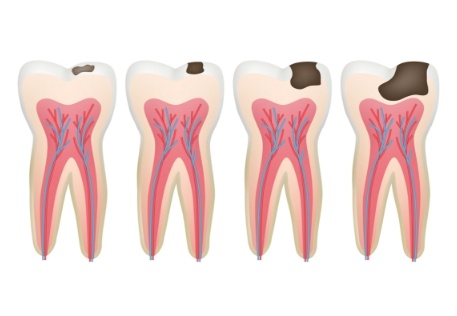 Root canal therapy may have a scary reputation, but it's actually a very safe and highly successful restorative procedure that can return health to badly damaged and/or infected teeth, saving them from the threat of extraction. For this procedure, Dr. Barnett will refer you to a specialist. They'll carefully access the inner chamber of the tooth in order to remove diseased pulp and clean the area. A customized crown will cover the treated tooth, rebuilding its natural shape and renewing its strength. With the help of sedation dentistry and modern anesthetic, patients remain fully comfortable throughout the process.
Learn More About Root Canal Therapy
General Tooth Extraction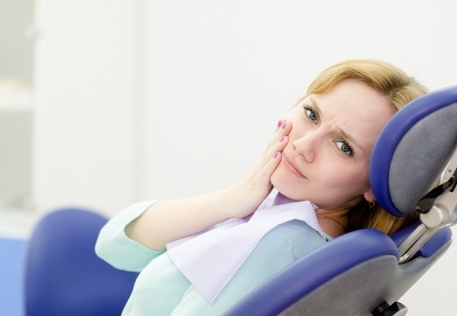 Having to remove one or more natural teeth is never our first choice for patients, but there are situations where it's necessary for your overall oral health and wellbeing. These include:
Traumatic dental injuries
Advanced tooth decay
Advanced periodontal disease
The need to remove "baby" teeth to make way for emerging adult teeth
The need to remove one or more teeth to make way for successful orthodontic treatment
Wisdom tooth removal
Dr. Barnett will be on-site to handle extraction cases. Patients can rest assured that our team will keep them comfortable throughout the process.
Wisdom Tooth Extraction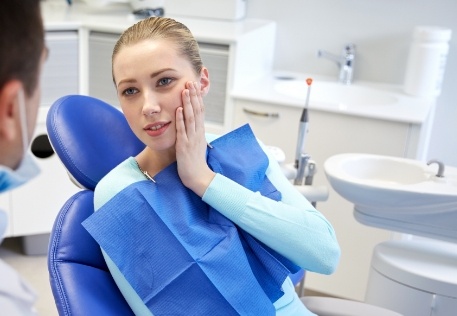 Wisdom teeth are the last adult teeth to develop and sometimes they remain impacted in the gums while other times they emerge through the gums. Not all people even have wisdom teeth, but if they are present, these third molars usually appear between the ages of 16 and 22. Unfortunately, the lack of space left in the mouth to accommodate them can result in dangerous overcrowding, impaction, and higher risks of infection. Dr. Barnett will keep a close eye on developing wisdom teeth as patients age, and she may recommend extraction as a valuable preventive measure to protect patients and their smiles.