Teeth Whitening - Dallas, TX
Brighten Your Smile Today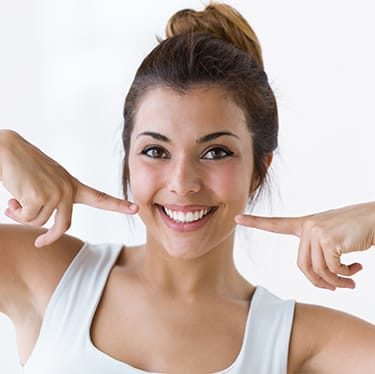 If you've seen the commercials about taking the "tissue test" or visited the dental hygiene aisle at the local pharmacy lately, you likely know that teeth whitening is a popular item on most patients' wish lists. A brighter smile is something many of our Dallas dental patients ask us about, and at Mariya Barnett, DDS Family & Cosmetic Dentistry, we offer a range of treatment options to deliver flawless smiles for any patient. If you want to brighten your smile, contact our team to schedule your cosmetic dentistry consultation today. We'll help you evaluate your smile and find the right cosmetic dental treatment to deliver your desired results within your schedule and budget.
Causes of Dental Discoloration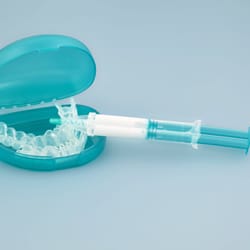 The only way we can ensure predictable results is to understand the underlying cause of dental discoloration. Some of the main reasons patients experience tooth discoloration include:
Consuming dark colored foods and beverages
Aging causes wear to dental enamel that reveals the underlying yellow colored dentin layer of teeth
Some people simply have darker colored teeth naturally
Fluorosis, brighter white spots on teeth, is caused by overconsumption of fluoride during dental development
Taking tetracycline medications before the age of three can lead to dark or yellow staining
Benefits of Professional Teeth Whitening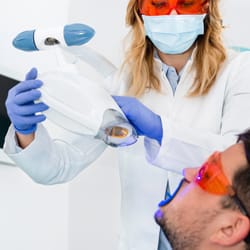 Many of our patients have already tried one or more store bought teeth whitening products with little to no improvement before they visit our office for professional teeth whitening treatments. We encourage every patient to visit us before trying any over the counter whitening kits to ensure they safely achieve the desired whitening results. Some of the many benefits of professional teeth whitening include:
Personalized treatment plans to deliver predictable results up to ten shades brighter
Patients can rely on safe and effective treatment when monitored by a dentist
Long lasting brighter smiles can be easily touched up with professional treatments
If the cause of staining will not be responsive to traditional teeth whitening methods, the dentist can recommend more effective cosmetic dentistry solutions
In-Office Teeth Whitening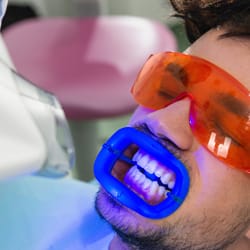 The fastest way to achieve a bright white smile is to receive in-office teeth whitening. Many patients prefer this option because it allows them to whiten their smiles with a trusted professional to apply and monitor the results. The treatment process will vary slightly based on which in-office teeth whitening system patients select. However, the basic process will remain the same. We begin by isolating the teeth using protective dams to prevent whitening agent from accessing soft tissue. Then, we'll dry teeth to keep saliva from neutralizing the whitening agent. Next, we'll apply a coat of professional whitening agent. We'll check the progress of whitening every twenty minutes and reapply as necessary to achieve the desired results.
Take-Home Teeth Whitening Kits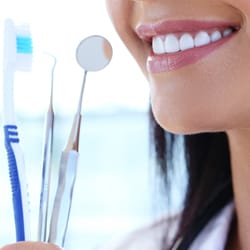 Patients who have sensitive teeth, those who want to gradually brighten their smiles, and those who want to touch up the results of their in-office whitening should consider a professional take-home teeth whitening kit. Store bought whitening products provide low doses of teeth whitening agents and less-than-ideal application methods. A professional at-home whitening kit includes higher doses of the active whitening agent and custom crafted application trays. Dr. Barnett will create a personalized treatment plan to ensure you meet your teeth whitening needs. Most patients are able to achieve the same teeth whitening results that are possible with in-office whitening over the course of two weeks of short, daily applications. We typically recommend "whitening weekends" to touchup your teeth whitening results a few times each year. If you regularly drink coffee, wine, or consume other darkly colored foods and drinks, you may need to touch up your results more often, and professional take-home kits are the perfect way to keep your smile sparkling.
Glo Whitening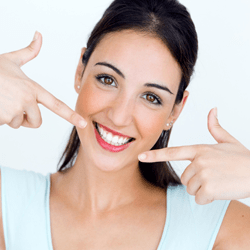 We are dedicated to incorporating the latest and most innovative treatment options for our patients, and we are excited to provide Glo Whitening treatments. Customized Glo Whitening plans can be completed using in-office treatments, take-home kits, or a combination of the two. Glo uses a custom dosage of active whitening agent combined with light and heat to accelerate the whitening process. Compared with other teeth whitening options, Glo whitening significantly diminishes risk for dental sensitivity. The in-office Glo treatment is completed in about an hour, and patients see smiles up to five shades brighter after one application. At-home Glo whitening kits can deliver the same results over several days of applications, and they can be a great way to touch up the results of in-office Glo treatments.