Dentures - Dallas, TX
Restore Your Missing Teeth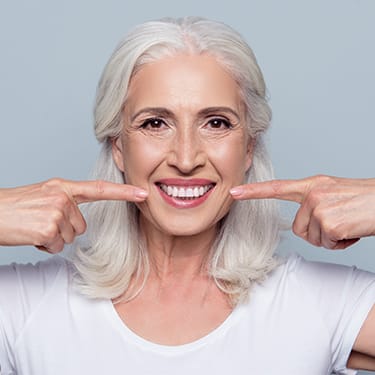 Patients who have suffered significant tooth loss can greatly benefit from dentures and partials, which restore the missing teeth in a natural, sturdy way. Dr. Mariya Barnett offers high-quality prosthetics that create confident, beautiful smiles! Keep reading to learn more about dentures and partials -- including what they are, their benefits, and what it takes to get them. You deserve a complete and healthy smile, even after significant tooth loss.
What Are Dentures and Partials?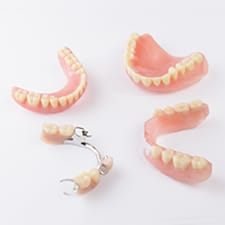 A denture is a set of prosthetic teeth attached to an acrylic base that is designed to look just like your healthy gum tissue. Dentures are created out of natural-looking materials for an inconspicuous replacement.
A complete denture replaces an entire arch of missing teeth in the upper or lower jaw; a partial denture fills in the gap left behind when a few natural teeth still remain healthy and strong in the jaw. The complete denture is held in place using natural suction and the help of a denture cream if needed. A partial denture clicks into place, supported by metal brackets affixed to natural teeth. For eligible candidates, dental implants provide additional security for a complete or partial denture.
Benefits of High-Quality Tooth Replacement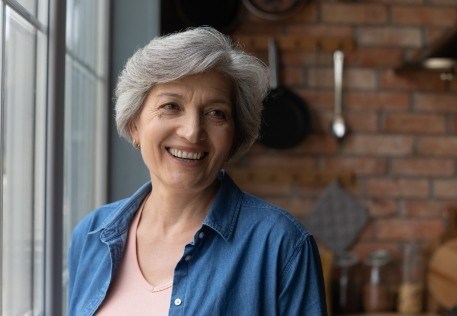 Finding an effective replacement for missing teeth is vitally important for your oral and overall health. Gaps in the smile result in a weaker jawbone, increasing the risk that you will lose additional teeth later on. It is also difficult to eat a balanced, nutritious diet when you cannot chew properly. A lisp or whistle may develop in the speech as well.
Fortunately, dentures and partials offer a wealth of benefits for patients who have experienced significant tooth loss. Some of these benefits include…
Dentures made from high-quality porcelain look just like your natural smile.
Any remaining natural teeth stay stable in the jaw, meaning they will not drift out of place to cause orthodontic issues.
The facial structure retains volume with prosthetic teeth for a more youthful appearance.
Traditional dentures offer an affordable method of tooth replacement.
An implant-retained denture offers superior stability and promotes better oral health for years to come.
What Is the Process for Dentures and Partials?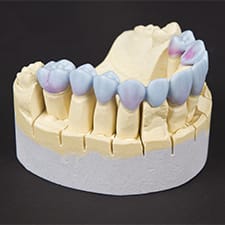 To create a denture or partial, we will schedule an initial consultation in which your dentist in Lake Highlands will examine your mouth and have impressions and X-rays taken. This information is used by the partner lab, which will create your customized denture or partial from high-quality materials. Once it is ready, you return to our office for instructions on use and maintenance. When you leave, you will be the proud new owner of a beautiful denture! With proper care, a traditional denture will function well for 5 to 7 years before replacement is needed.
Dentures FAQs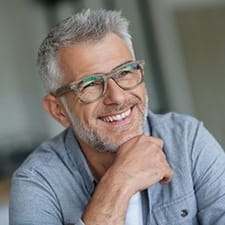 Are you considering rebuilding your smile with dentures in Dallas? If so, you might have a few questions that you want answered before you begin this treatment. To ensure you're making the best decision for your smile and oral health, we've answered some questions that we frequently get asked by our patients below. If you have a question that isn't answered on this page, just call us and ask!
How Much Do Dentures Cost?
As with any kind of dental work, there is no fixed cost of dentures. During your consultation with Dr. Barnett, you can expect her to discuss the various factors that can influence the price of your new teeth. Some of these factors include:
The number of teeth you're missing
Whether or not you choose to support your dentures with dental implants
The materials used to create your dentures
Any additional dental work you'll need beforehand (such as gum disease therapy or tooth extractions)
To make your dental care more affordable, our practice is in-network with many popular dental insurance PPO plans. We also offer low-interest third-party financing through CareCredit and Lending Club. Lastly, as an alternative to traditional insurance, we have an in-office membership plan that gives you discounts on most services as well as FREE preventive care in exchange for a low, flat yearly fee.
Will Dentures Make Me Gag?
Custom-made dentures that fit well should not cause you to gag. After tooth loss, though, your jawbone will naturally change shape (unless you received dental implants). As a result, the dentures might not fit as well as they used to after a few years. They may loosen and move around, touching the back of the tongue or throat and triggering the gag reflex.
Try applying some denture adhesive. If this doesn't work, give us a call. We can decide whether a reline or replacement would be best.
Keep in mind that when you first get your dentures, it will take some time to get used to them. However, if the gagging feeling persists for more than a few weeks, contact us and we'll take a look.
How Do I Clean My Dentures?
Implant-retained dentures can generally be cleaned in the same way as your natural teeth; just brush and floss them every day. Removeable full and partial dentures, on the other hand, require a bit of extra care. Here are some important tips for keeping traditional dentures clean:
Use a special denture brush and cleaning solution to clean your dentures at least once daily.
After you remove your dentures, gently brush your tongue and gums.
Take your dentures out and rinse them off after every meal and snack.
Soak your dentures in room-temperature water or denture cleanser every night.
Schedule routine checkups with our team at least twice a year.
Learn More about Dentures and Partials Today!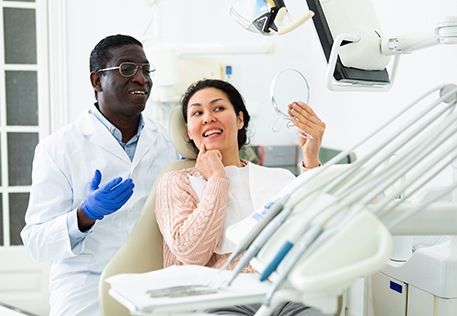 If you have suffered significant tooth loss, don't wait another day to find a high-quality replacement! Dr. Barnett offers beautiful complete and partial dentures in Dallas. We invite you to request an appointment today!