Invisalign – Dallas, TX
Beautifully Straighten Teeth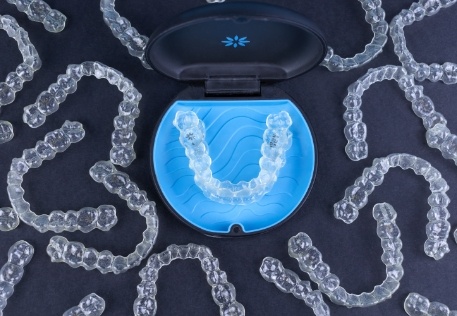 If you regularly avoid showing off your smile because of noticeable gaps or misaligned teeth, it's time to make a change. DFW-area patients who visit Dr. Mariya Barnett won't have to worry about wearing clunky metal braces. The Invisalign treatment is a seamless and easy way to beautifully straighten teeth while maintaining a healthy sense of self-confidence. If you're in White Rock Lake, TX or another nearby area, contact us today to schedule your first appointment! Our team looks forward to meeting you.
How Invisalign Works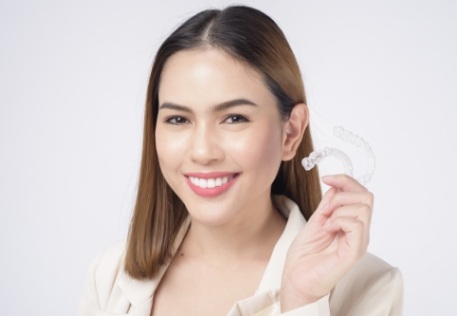 It's simple – patients wear a series of clear plastic aligners customized just for their smiles. Each aligner represents a different stage of your teeth as they're gradually shifted towards a more optimal position. Each tray is worn for about two weeks before switching to the next set.
Invisalign aligners should be worn at all times, except when eating, brushing, and flossing. Their removable nature makes it easy to still enjoy all your favorite foods and keep your smile clean without any trouble. Better yet, there's no uncomfortable tightening to worry about – only brief, simple progress appointments with us every six weeks on average.
Am I a Good Candidate for Invisalign?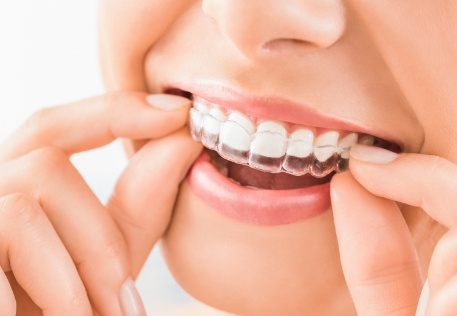 If you're looking to straighten teeth in Northeast Dallas, Invisalign might be just the treatment you need. It can correct a variety of smile issues, such as:
Crowded Teeth
If your teeth are too close together, they can be difficult to properly brush and floss. This increases your risk for developing cavities and gum disease. Invisalign can line your teeth up for more efficient cleaning.
Spaces Between Teeth
A gapped smile is much worse than just being considered unattractive. Bits of particles can get trapped in these spaces and promote bacterial growth, which causes bad breath among other oral health problems. Invisalign in Northeast Dallas can more evenly space out your pearly whites.
Bite Alignment
If you have an overbite, underbite, or crossbite, it can cause you to grind your teeth and clench your jaw, leading to sped-up wear and tear of the tooth enamel. Invisalign can correct these bite problems.
Benefits of Invisalign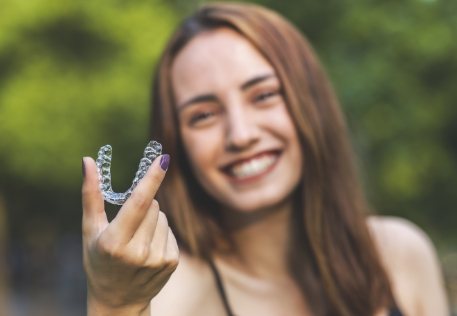 Invisalign offers a whole world of benefits when compared to traditional braces, including:
Cosmetic Superiority
With Invisalign, you can receive orthodontic treatment without anyone even having to know!
Safety and Comfort
The metal brackets and wires of braces can damage your tongue, gums, and lips. Invisalign's smooth plastic trays are designed to avoid soft tissue irritation.
Speed
While patients typically spend 24 to 36 months wearing traditional braces, Invisalign treatment can often be completed in as little as 12 months.
Daily Maintenance
The subtlety of your aligners depends on your keeping them clean. If you don't brush your teeth between eating and placing your aligners back in, bits of food can get stuck in your aligners, causing not only stains, but infections as well. To prevent this, you'll have to clean your aligners regularly.
It's a good idea to rinse your aligners every time you remove them. Make sure to use only lukewarm water and not hot water, as that could change the shape of the plastic. At least once a day, brush your aligners gently with a soft-bristled toothbrush. Just be sure to not use toothpaste, as that could actually be abrasive.
Understanding the Cost of Invisalign
Because no two patients' cases are created equal, neither are any two costs of Invisalign treatment. Your final cost could be influenced by many factors, like your age and the severity of your dental misalignment. Ultimately, it's impossible to know how much you'll end up paying unless you come in for an Invisalign consultation.